This webinar is the sixth of our 2022 WIN webinar programme, which is offered as part of our global WIN (What In-house lawyers Need) programme. In addition to our live webinars, we invite you to attend a live showing of a pre-recorded WIN On Demand webinar. These live showings will act as an introduction to the topic we will explore in our next live webinar - Self- leadership & harnessing a commercial mindset. This webinar will be held on Zoom in the same way our live webinars are held allowing you the opportunity to network with other in-house lawyers around the globe via the chat function.
Crisis Management is the process by which an organisation deals with a major event that threatens to harm its business, its stakeholders, or the general public. During a world health crisis, it is vital for professionals to be able to not only manage the crisis at hand and to help ensure the survival of their business, but also to lead themselves through such difficult situations. Originally recorded in November 2020, this session explores how you can do this in the following three parts:
Managing yourself - harnessing a healthy attitude and heightened awareness around your position in your organisation.
Managing others - Connection is key and the way you build relationships with your co-workers, clients and your managers are paramount.
Tools - Maximise your effectiveness and be ahead of the rest when it comes to conducting business after COVID-19.
Please note, these webinars are only available to in-house lawyers and due to the popularity of our programme, webinar spaces will be prioritised for registered WIN members. If you are not registered for WIN, you may be placed on a waiting list. To register for WIN, please click here.
About your speaker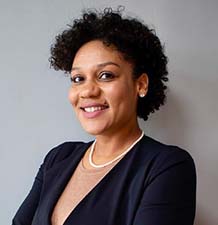 Miranda Naiman
Miranda's obsession is to unite, excite and nurture people and organisations for collective growth. As an 'Accidental Entrepreneur' with an academic background in Theatre for Development, she strategically transferred her skillset to the private sector in 2009 when she founded Empower a flourishing Human Capital Consulting Firm servicing East Africa and beyond. Miranda is a Mother, writer, motivational speaker & tenacious advocate of Skills Development having spearheaded Empower Academy and the 'Kidpreneur Movement' to prepare Tanzania's future generation for business. Miranda is a Member of The Africa List - a select community of next generation CEOs in Africa's most exciting growth markets and serves on the Board of CRDB Bank, CCBRT, African Women Entrepreneurship Cooperative, READ International and is an active Member-Leader of the Entrepreneurs' Organization. Her Life Mantra: 'Always strive to be a better version of yourself.'
Summary
This event will be held in BST.